Company Profile
Company Profile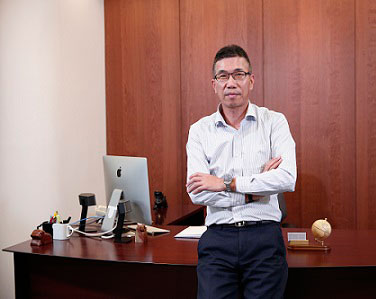 Since the establishment in 1997, Dailywell has continuously been developing ways to improve the life of their consumers. Adhere to insist on kind consciousness; Dailywell demands perfection in all aspects, including research, development, production, quality assurance and marketing. Dailywell continues to strengthen the management team and nurture talented persons in order to lay the foundation of long lasting operation. The expertise, advanced technology and organization management of Dailywell are the driving forces of this perfect idea. A switch is a drive to determine happiness, the energy is activated with the flip of a finger; the exquisite visions are realized and extended to every corner of the world. As the switch's leading brand, Dailywell bases in Taiwan and reaches out to the world with the concern of humanity and technical development. In Dailywell, happiness and perfection are tied together in each single day.

The founders, having more than 20 years of experience in development, manufacture and the spirit of social contribution, established Dailywell in March 1997. With professional developments and advanced quality, Dailywell obtained approval of ISO 9001, UL, CSA and TUV certificates. With growing production capability and equipment expansion, we set up our second factory in China on Oct. 2000. In order to meet the on-going increase in production quantities, Dailywell has raised the number of employees to around 600 people. We inherited the innovation and the evolvement of professionalism in the long run. No matter how much difficulty has to be faced, Dailywell insists on the strictness of quality. ''Professionalism'', ''service'' and '' eagerness to face challenges' are the main attitude Dailywell is upholding in order to supply the best products and services.

In the near future, Dailywell is moving forward to the goals of "internationalization" "professionalism" and ''diversification'' with broaden worldwide vision of leading quality products and diversified ideas to facet market challenges. Eventually Dailywell would upgrade the company's international brand image and become the most trustful partner ! When you are searching for a switch, ''Dailywell'' is your first choice!

We always believe......
Only inconsistent creativeness satisfies the customers' needs.
Only insistence of quality can ensure the stability of products.
Only flexible response can move into the core of the market.
Only good service can obtain the customer's trust.

Company History
| Year | Achievement |
| --- | --- |
| Mar. 1997 | DAILYWELL Electronics Co., Ltd. was formally established, and began switch production. |
| Sep. 1997 | Dailywell received ISO-9002 certification. |
| Mar. 1999 | Dailywell expanded its scale of production, purchasing its own factory and office buildings. |
| Jun. 2000 | Dailywell received ISO-9001 certification. |
| Oct. 2000 | Dailywell expanded production capacity and embarked on the strategy of internationalization by establishing a factory in Dongguan, mainland China. |
| May. 2001 | R&D's work on high-insulation, went for mass production. Got TUV. |
| Dec. 2002 | Precision stamping department, plastic injection department and tooling department were established in Zhu Hai Factory in order to enhance product competitiveness and satisfy customers' needs. |
| May. 2003 | Dailywell received the 3C Certification. (China Compulsory Certification). |
| July. 2003 | Obtained NEW version of ISO-2000 and TUV. |
| Sep. 2003 | Qualified Member of the Green Design Network. |
| Dec. 2004 | Established CNC Automated Latching Department to expand manufacturing rate. |
| Nov. 2006 | Increase capital of NTD 20 million total capitals NTD 35 million Upgrade to C class member in TEEMA. |
| July. 2007 | IECQ/QC 080000 certificate approved. |
| Oct. 2007 | Increase capital of NTD 15 million Total capital NTD 50 million. |
| Jun. 2008 | The new factory are built and start using in pingsha, Zhu Hai. |
| Oct. 2008 | Dailywell plans to obtain ISO14001,OHSAS 18001 certification. |
| Sep. 2010 | Acquired ISO9001:SGS International Quality Certification Aprroval of 2008 year edition. |
| May. 2013 | Increase capital of NTD 10 million Total capital NTD 60 million. |
| Aug. 2015 | Increase capital of NTD 20 million Total capital NTD 100 million Upgrade to C class member in TEEMA. |
| July. 2017 | Electronic department on the stage of preparation for developing electronic related products. |
| Aug. 2017 | Increase capital of NTD 50 million Total capital NTD 150 million. |
Market

In Marketing, efficiency is everything

First to determine customer's demand leads the market! Thus, with the tide of high quality service, we provide you the most suitable requirement with rapid thinking and the ability to respond flexibly. This is not only Dailywell's marketing but also the entire company's principle. Great satisfied is what Dailywell offers.

We deeply believe
"Your problem is our responsibility"

RD & QA

Conflict,compromise and progress are the trilogy of R&D. In Dailywell, the engineers in research and development department have always thought deeper than their customers.

---

With desire to pursue more knowledge and perfection, they have defended their creativity and make switches that connect to technology.

---

Dailywell insists on products stability and quality. In September, 1997 and June, 2000, Dailywell has passed ISO9002 and ISO9001 international standard certifications respectively.

Conflict Minerals

Whereas armed groups in the Republic of Congo have taken control of local mining operations in recent years and are using the proceeds for furthering their interests. As a result, mining operations are often accompanied by armed conflict and serious human right violations that have garnered the attention of the international community. In respect of international human rights, Dailywell hereby makes the following representation concerning minerals extracted by way of armed conflict and human rights violation ("Conflict Minerals"):

Dailywell will take related measures to avoid using Conflict Minerals, including asking suppliers to conduct due diligence to confirm whether their products include gold (Au), tantalum (Ta), tin (Sn), tungsten (W) from the Republic of Congo.
Dailywell expects its suppliers to transition to Conflict Free Smelter Program (CFSP) and other industry validated conflict free smelters by requiring their existing smelters to undergo audits to achieve a similar conflict free status. Dailywell will take all necessary measures to replace Conflict Metals, if any, used in supplier's product.

Dailywell will continue to monitor the use of Conflict Minerals so as to reduce its impact.
Press Release
AutoTronics Taipei 2018

Exhibition Title: AutoTronics Taipei 2018
Exhibition Dates & Hours: 9 a.m. ~ 5 p.m., April 11 to 13, 2018 & 9 a.m. ~ 3 p.m., April 14, 2018
Exhibition Venue: Nangang Exhibition Center (No.1,...

Read More

Electronica China 2018

Exhibition Title: Electronica China 2018
Exhibition Dates & Hours: March 14 to 16, 2018
Exhibition Venue: Shanghai New International Expo Centre
Exhibition Booth No: E6-6448

Read More

20th Dailywell Anniversary Party

Our Company's 20th anniversary, we welcome everyone to our party to celebrate 20th Dailywell birthday. Dates: 2017/08/20

Read More