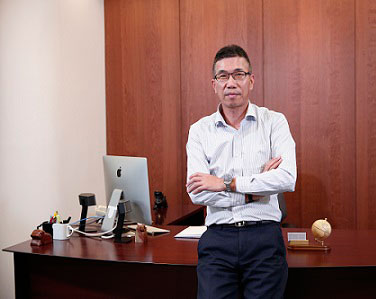 Company Profile
Dailywell - Professional Switch Manufacturer
Since 1997, Dailywell has continuously been developing ways to improve the life of our consumers. Adhere to insist on kind consciousness, Dailywell demands perfection in all aspects, including research, development, production, quality assurance and marketing. Dailywell continues to strengthen the management team and nurture talented persons in order to lay the foundation of long lasting operation. The expertise, advanced technology and organization management of Dailywell are the driving forces of this perfect idea. A switch is a drive to determine happiness, the energy is activated with the flip of a finger; the exquisite visions are realized and extended to every corner of the world. As the leading brand of switches, Dailywell bases in Taiwan and reaches out to the world with the concern of humanity and technical development. In Dailywell, happiness and perfection are tied together in each single day.
---
Dailywell has pioneered in opening up virgin lands and building up more-than-20-year experience. We always want to serve and contribute to society. With professional developments and advanced quality, Dailywell obtained approval of ISO 9001, UL, CSA and TUV certificates. With growing production capability and equipment expansion, we set up our second factory in China on Oct. 2000. In order to meet the on-going increase in production quantities, Dailywell has raised the number of employees to around 600 people. We inherited the innovation and the evolvement of professionalism in the long run. No matter how much difficulty has to be faced, Dailywell insists on the strictness of quality. ''Professionalism'', ''service'' and '' eagerness to face challenges" are the main attitude Dailywell is upholding in order to supply the best products and services.

In the near future, Dailywell is moving forward to the goals of "internationalization" "professionalism" and ''diversification'' with broaden worldwide vision of leading quality products and diversified ideas to face market challenges. Eventually Dailywell would upgrade the company's international brand image and become the most trustful partner ! When you are searching for a switch, ''Dailywell'' is your first choice!

We always believe......
Only inconsistent creativeness satisfies the needs of customers.
Only insistence of quality can ensure the stability of products.
Only flexible response can move into the core of the market.
Only good service can obtain the trust of customer.
Conflict Minerals

Whereas armed groups in the Republic of Congo have taken control of local mining operations in recent years and are using the proceeds for furthering their interests. As a result, mining operations are often accompanied by armed conflict and serious human right violations that have garnered the attention of the international community. In respect of international human rights, Dailywell hereby makes the following representation concerning minerals extracted by way of armed conflict and human rights violation ("Conflict Minerals"):

Dailywell will take related measures to avoid using Conflict Minerals, including asking suppliers to conduct due diligence to confirm whether their products include gold (Au), tantalum (Ta), tin (Sn), tungsten (W) from the Republic of Congo.
Dailywell expects its suppliers to transition to Conflict Free Smelter Program (CFSP) and other industry validated conflict free smelters by requiring their existing smelters to undergo audits to achieve a similar conflict free status. Dailywell will take all necessary measures to replace Conflict Metals, if any, used in supplier's product.

Dailywell will continue to monitor the use of Conflict Minerals so as to reduce its impact.

Corporate Social Responsibility Policy

Corporate Social Responsibility Policy

Dailywell Electronics Co. Ltd is committed to employee care, employee health, environmental protection, safety and social participation, good corporate social responsibility and the pursuit of enterprise sustainable operation. To implement humane care, establish an excellent working environment and social responsibility policy, Dailywell Electronics Co. Ltd will be in the design, manufacture, sale of related products and provide customer after-sales service, follow the following code of conduct.

1.Labor

(1) No child labor

For the protection of children, it is not allowed to employ a worker below the age
of 15 or the country minimum legal age whichever is more stringent.

(2) No forced labor

There shall be no forced labor and other related coercion, including corporal
punishment, mental and physical mistreatment, verbal violence, distraint of bank
deposit, personal identity documents or other illegal works.

(3) Working hours and remuneration

We assure employees that the regular working or overtime hours should conform
to EICC and local laws. However, the overtime hours should be allowed to change
applicably for the business operation needs. We'll offer employees the deserved
rest and overtime compensation.

We promise to make a legal remuneration policy, not less than the local basic
wage and legal employee welfare.

(4) Freedom of association

All employees have the right to organize or join labor union. The company shall
respect this right, and shall effectively inform personnel that they are free to
join an organization of their choosing and that their doing so will not result in
any negative consequences to them or retaliation from the company. The company
shall not in any way interfere with the establishment, functioning, or administration
of such workers' organizations or collective bargaining.

We shall provide communication channels and ensure that any personnel are not
subjected to discrimination, harassment or intimidation to ensure that employees
can communicate with the company.

(5) No discrimination

Employing units of The Company is prohibited from discriminating against any job
applicant or employee of their job application, compensation decision, promotion,
training opportunity and other related welfare rights on the basis of race, national
origin, religion, caste, gender, sexual orientation, political affiliation, union
membership and disability unless the special conditions of working environment
and/or other reasonable discretion for employee protection.

2.Health & Safety

Every employee must be allowed to work in a safe and healthy work environment,
consistent with the requirements of related Labor Safety and Health laws, OHSAS
18001 occupational safety and health management system, and international CSR
regulation. We provide a safe and healthy work environment standard to prevent
workers from an occupational accident at work, and reducing the risk factors of
working environment.

3.Environment

We are committed to compliance with ISO 14001, or we should establish a
systematic environmental management system that provides a complete proof of
its continuous improvement of environmental conditions. We are focus on the
integration of environmental management and operations to provide high quality
products, service and high-value customer service.

4.Management System

We shall adopt or establish the scope and content of the management system on
this agreement. We should ensure the management system meet the following
requirements.

(1) We are consistent with the company's product regulations and customer
requirements.
(2) We comply with the relevant provisions of this commitment.
(3) We should identify and reduce the commitment concerned with the management
risk. In addition, the management system needs a continuous improvement.

5.Ethics

(1) Business integrity

Must be ethically, honestly, integrity to implement and perform its obligations, and
required all employees to avoid conflicts and interest arise from personal and work.

(2) No improper advantage

Must required all employees against offering and accepting any form of interest
from corporate partners, especially these interest may endanger business objective
and impartial decision. And avoid violating the principle of business integrity,
including bribery, fraud and so on.

(3) Disclosure of information

Without violating the company premise and legal norm, the company will initiatively
and integrality announces any communication content with the stakeholders.

(4) Intellectual property rights

All employees should promise to abide with related laws and regulations to
intellectual property rights.

(5) Fair business, advertising and competition

Commitment to fair trade, not to use any forms of false advertising and unlawful
competition to compete in the market.

(6) Protection of identity

Protect the trade secret, business and technology related information of
customer, suppliers and third party, not to disclose them to any third party
without permission.