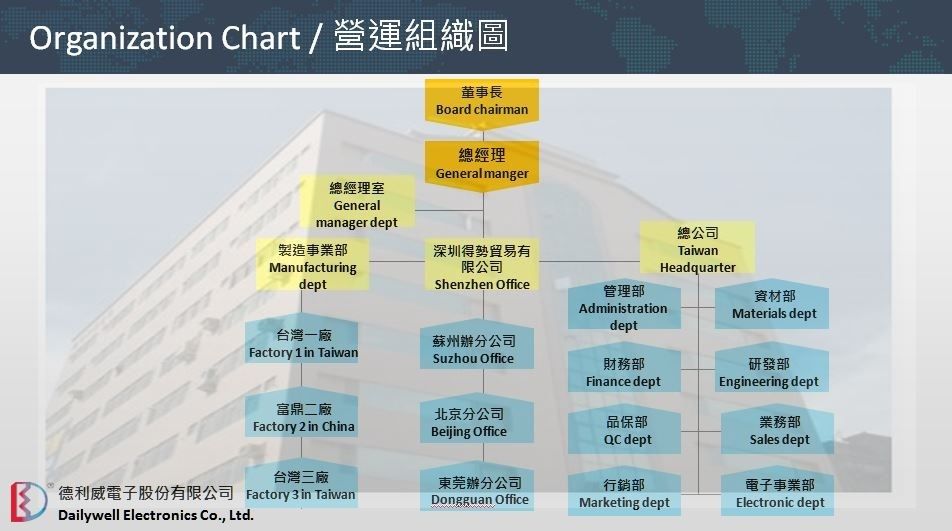 Company Structure
Company Structure
---
Sales Department
Department responsibility
Development, investigation, selection, contact and serve both domestic and foreign customers.
Strictly check contract and purchase order, coordinate production line and shipment control coordination.
Dealing with customer complaints.
Abnormal reaction quality information to the development and quality team, collect and provide technical information to customers.
Arrange shipment delivery.
Customer satisfaction survey.
Summarize environmental requirements of different customers and transfer requirements to the quality system.
Promote HF compliance products to customers.
Department features
Participate in both domestic and international well-known electronic exhibitions every year for market exploration.
Professional sales divisions: Dailywell has divided the whole world into two divisions (Europe/United States & Central Asia) to be responsible for individual teams that carry out root down market and switch trend understanding.
Provide a full-time service: Whether a client has mechanical or quality questions, Dailywell will respond immediately for their satisfaction.
Advanced internet marketing team: Responsible for promoting the latest products to the demand of customers, so that Dailywell sustainable development at the top of the world.
Future visions
Continuous research and grasp of market trends, develop potential customers and emerging markets.
Dailywell has established a good corporate image and reputation, we will continue to maintain the cautious attitude, and provide the most professional and intimate service.
---
Management Department
Department responsibility
The management approaches are developed, revised and implemented.
Human resources development plan.
Planning staff education and training courses.
Planning and implementation of factory safety and health improvement plan.
Planning and implementation of the property management improvement plan.
Document control center is responsible for maintaining all of documents.
Responsible for maintaining partial cost budget control.
Department features
Always pay attention to the relevant government decrees, and put forward the strategy for the senior executives, as a reference to the direction of corporate strategy.
Create a working environment where employees can give full play to their potential, and show a happy business situation.
Future visions
Integration of the group's human resources policy, and set the plans of selection, training, employ, retention to achieve corporate strategic objectives.
Assist the factory, department manager of the professional ability to improve the management of human resources.
---
Research & Development Department
Department responsibility
For the special needs of customers, we design and develop the customized switch products.
Research various types of switch product structure, and this is one of the methods to strengthen its own product performance and technology upgrade.
The introduction of electronic technology development corresponding to the electronic switch.
Complete existing products and continue to expand current functionality and applications, which is able to provide a wider product line width.
The platform's user-friendly customized modular design makes it easier for customers to manipulate the product towards application.
Research, develop new technologies, and optimize the performance of various products continuously.
Department features
We have our own professional R&D team, with a wealth of professional knowledge and more than 10 years of design experience according to different switches expertise to provide a reliable product design.
Manipulating 3D graphics software for product design and simulation, and both mold and assembly machine are synchronized design, which is able to provide fast and accurate design to meet customer's request.
From start of design, the process can be improved by FMEA and import existing product design concept and failure mode to minimize the risk of product development.
Use 3D printing to complete the rapid sample preparation service, and provide 3D files to facilitate communication with customers.
We have excellent experience both of waterproof and dustproof product design, and definitely available in extreme weather and harsh environments.
High-flexibility, we participate in customer product development discussions and suggestions, timely solution to customer requests and difficulties.
Future visions
To maintain a competitive advantage in our products and help our customers gain more product advantages.
In the future, we will build a more close relation with the industry chain in the mechanic and electronic switch ecosystem and integrate our strategic partners' resources to expand our market share in the vertical application market and quickly deliver added-values to end customers.