Factory Facilty
China Zhu Hai Factory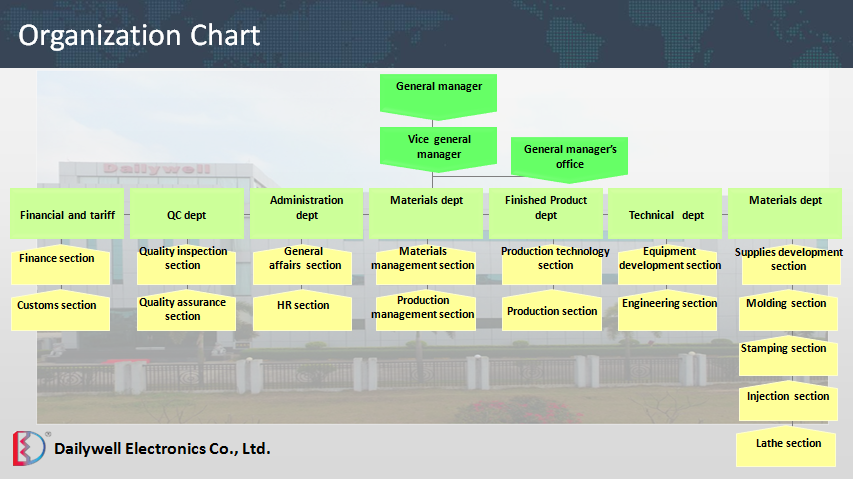 Our factory occupies an area of 15,000 m2 in Zhuhai, we constantly focus on process technology and production efficiency, and have a reliable, fully- automated production line in control and management with an annual capacity of 800 million pieces.

We design and develop molding then produce various types of materials on our own. This includes injection molding of plastic injection and the manufacture of metal components through press and lathe machines, etc.

We use a variety of raw materials in processing plus our own supply of production materials.We can even operate under automated or manual assembly without any production delays differences .
China Zhu Hai Factory founded in July, 2002

Address:No.9, Hua-Xing, Ping-Sha, Jin-Wan, Zhu-Hai City, Guang Dong Province, China

Total area:15,000 m2

Production capacity: 80 million pieces

Employees:450+ (2017)
Press Release
CES 2019 Consumer Electronics Show

CES 2019 Consumer Electronics Show
Exhibition Dates: Jan 8– 11, 2019
Exhibition Booth No:62030
Exhibition Venue: LAS VEGAS, NV

Read More

Electronica 2019

Electronica 2019
Exhibition Dates: March 20 – 22, 2019
Exhibition Booth No:E6.6334
Exhibition Venue: Shanghai New International Expo Centre

Read More

AUTOTRONICS TAIPEI 2019

AUTOTRONICS TAIPEI 2019
Exhibition Dates & Hours: 9 a.m. ~ 5 p.m., April 24 to 26, 2019 & 9 a.m. ~ 3 p.m., April 27, 2019
Exhibition Booth No:P0829
Exhibition Venue: Nangang Exhibition...

Read More