Short Stroke Touch Switches (Washable)
BP Series
Illuminated Miniature Tact Switches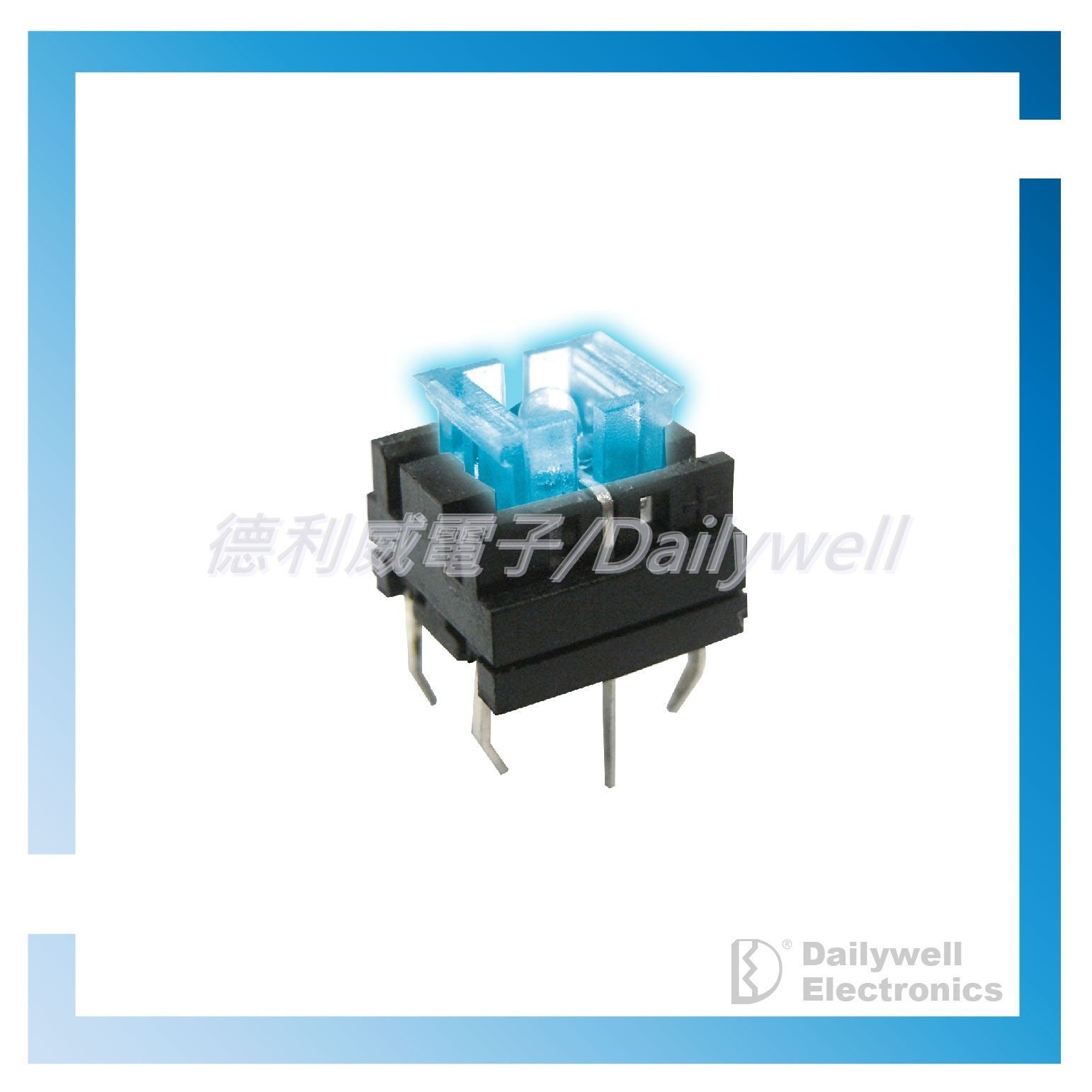 The distinctive features of BP series tact switches are 8*8mm small size, long electrical life and waterproof illuminated tact switches. The operating temperature range between -25℃ and 70℃ and SPST function is available.

Applications of BP series tact switches include home appliances, consumer products, instrumentation, computer products, communication equipments.

Order Terms
1. Your inquiry will be answered within 24 hours.
2. Payment term: T/T in advance (first transaction)
3. Term of trade: FOB HK/TW
4. Mini Order Quantity: 100 PCS per item.
5. Mini Order Amount Per Shipment: USD$50
6. Lead time: 3-4 weeks.
Specification
CIRCUIT: SPST.
FUNCTION: Momentary.
CONATE RATING: 50 mA @ 12V DC.
OPERATING FORCE: 350 gf ±100gf.
TOTAL TRAVEL: 0.25mm ± 0.10mm.
MECHANICAL LIFE: 100, 000 make-and-break cycles.
CONTACT RESISTANCE: 100mΩ max. (initial)
INSULATION RESISTANCE: 100MΩ min.
DIELECTRIC STRENGTH: 250 V RMS @ sea level.
OPERATING TEMPERATURE: -25°C to70°C.
Materials
CASE: Glass filled Nylon 6/6(UL 94-V0).
HOUSING: Glass filled Nylon 6/6(UL 94-V0).
ACTUATOR: PC.
TERMINAL/CONTACT: Brass, Silver plated.
Applications
Home appliances, Computer peripherals, Telecommunications and Networking equipment.
Safety / Quality Approvals

Related Products

KT Series

---

The distinctive features of KT series tact switches are perfect sense of touch, brightness with well mixed LED, unique structure of diffuser plate, and sealed structure to ensure high contact reliability. The operating temperature range between -25℃ and 70℃ and SPST function is available.Besides, we offer two options of operating force: standard operating force 1.70N and high operating force 2.60N. Applications include medical equipment, test and measurement equipment.Order Terms 1. Your inquiry will be answered within 24 hours. 2. Payment term: T/T in advance (first transaction) 3. Term of trade: FOB HK/TW 4. Mini Order Quantity: 100 PCS per item. 5. Mini Order Amount Per Shipment: USD$50 6. Lead time: 3-4 weeks.

---

PS3001 / PS3002-H Series

---

Dailywell PS3001/PS3002-H series are momentary pushbutton switches that is pcb mounted and has a long travel. You can choose between a single pole, single throw switch, or a single pole, double throw, double action switch. The distinctive feature is the double action of the double throw switch; you press mid-travel and it actuates, then continue pressing for another actuation at full travel.The PS3001/PS3002-H series pushbutton switches also offer a nice tactile response which allow the PS3001/PS3002-H series to be used across a wide variety of applications and operating conditions.Order Terms 1. Your inquiry will be answered within 24 hours. 2. Payment term: T/T in advance (first transaction) 3. Term of trade: FOB HK/TW 4. Mini Order Quantity: 100 PCS per item. 5. Mini Order Amount Per Shipment: USD$50 6. Lead time: 3-4 weeks.

---

KS Series

---

The distinctive features of Dailywell KS series tact switches are caps available in several colors, high reliability contact and excellent switching feedback, and brightness with well mixed LED. The operating temperature range between -25℃ and 70℃.Applications of Dailywell KS series tact switches include medical equipment, lighting instrument panel, operating machine panel, audio control panel, NC panel.Order Terms 1. Your inquiry will be answered within 24 hours. 2. Payment term: T/T in advance (first transaction) 3. Term of trade: FOB HK/TW 4. Mini Order Quantity: 100 PCS per item. 5. Mini Order Amount Per Shipment: USD$50 6. Lead time: 3-4 weeks.

---

---

Files Download

---
Press Release
Information COVID-19

"Dailywell focus on every medical switching requirement, and we fully support the medical related application to reduce COVID-19 crisis."

Read More

Dailywell Announce of A NEW Taiwan Plant Be Built to Enhance Production Capacity

Due to increase ordering requirements, Dailywell have built 3rd plant in Zhonghe, New Taipei City, which increasing our current production rate more, benefit our new products'production...

Read More

This is HOT news for our KPB22 series switches, which is complete approved by TUV & ENEC certification

The distinctive of KPB22 series, which specs on illuminated switches are lightweight-plastic material,
meets IP65 approval, different carved pattern customized, and with TUV & ENEC 61058-1...

Read More