Sealed Toggle Switches
1A Series
Sealed PCB Toggle Switches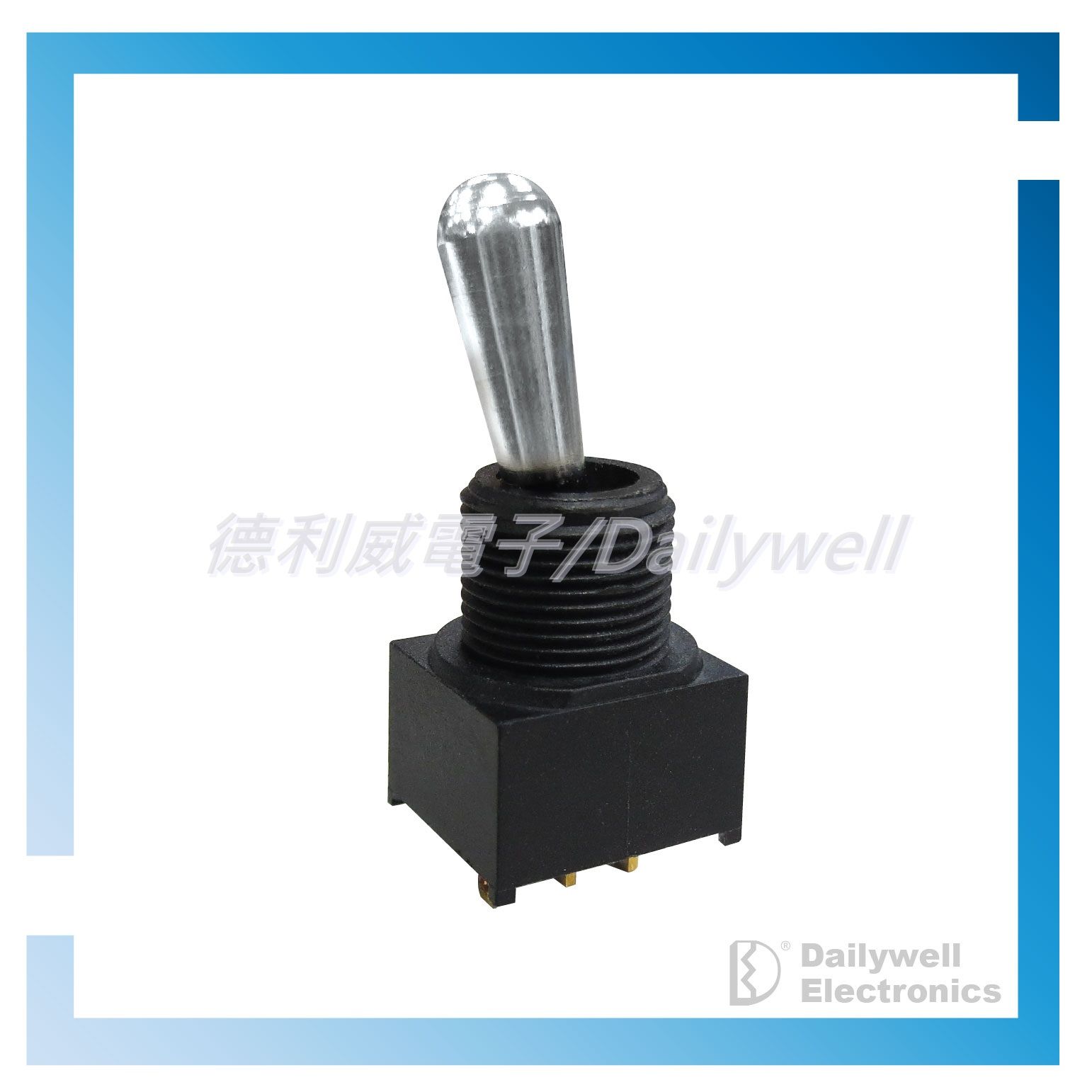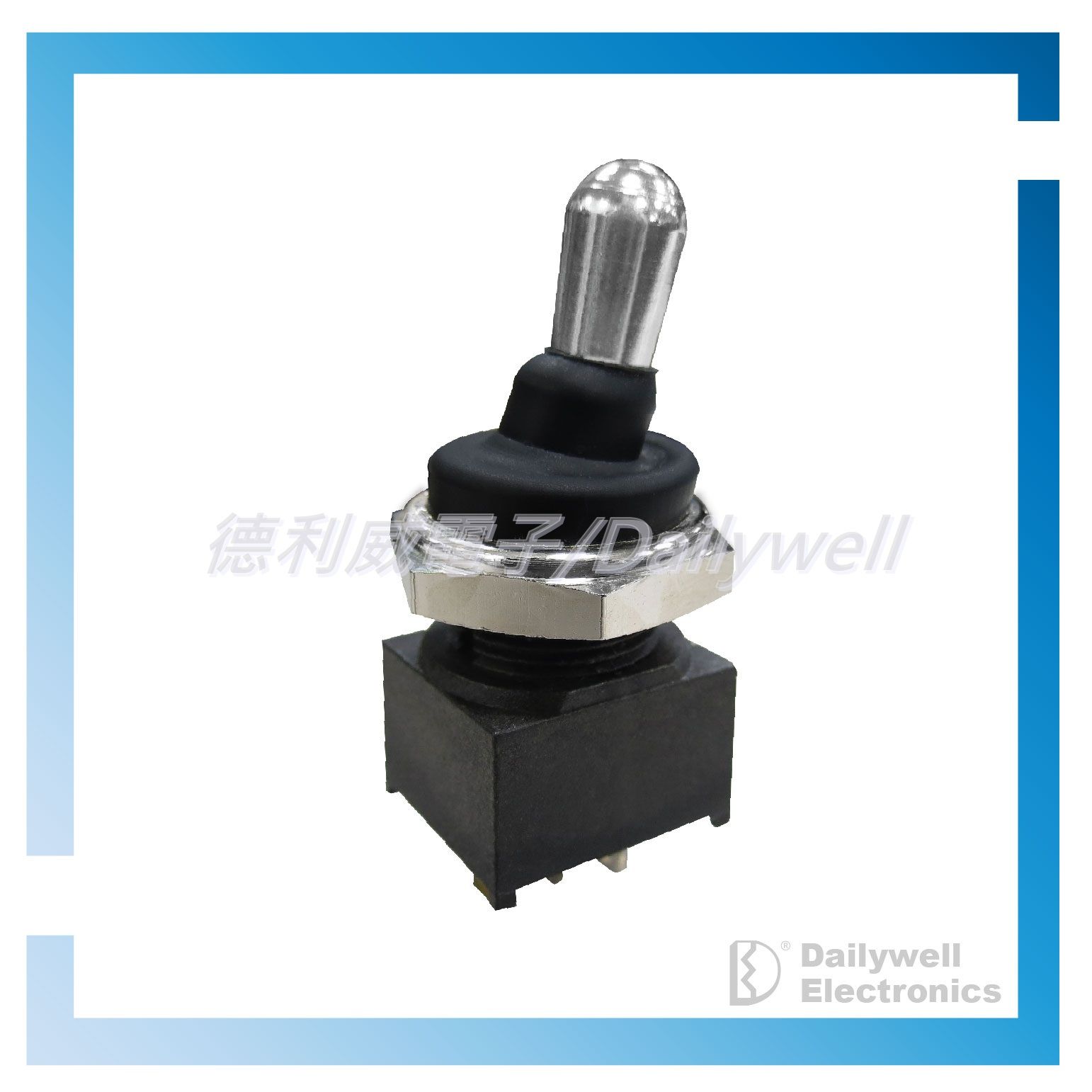 Dailywell water-proof toggle switches come with rubber hood protection, and contact rating up to 0.4VA, and we provide a variety of switch functions for customers. The operating temperature range between -30℃ and 85℃ and sealed to IP67 standards.

Order Terms
1. Your inquiry will be answered within 24 hours.
2. Payment term: T/T in advance (first transaction)
3. Term of trade: FOB HK/TW
4. Mini Order Quantity: 100 PCS per item.
5. Mini Order Amount Per Shipment: USD$50
6. Lead time: 3-4 weeks.
Specification
Mechanical Life: 100, 000 make-and-break cycles.
Electrical Life: 50, 000 cycles.
Contact Rating: 0.4Volt-Amps(VA) max.@ 20V max (AC or DC).
Contact Resistance: 10 mΩ.
Insulation Resistance: 100 MΩ.
Operating Temperature: -30°C to 85°C.
Materials
CASE & BUSHING: Glass filled nylon 6/6, flame retardant.heat stabilized (UL94v-0).
ACTUATOR: Brass, chrome plated with internal, O-ring seal standard.
SWITCH SUPPORT: Brass or steel, tin plated.
SWITCH SUPPORT RETAINER: Stainless steel.
CONTACT / TERMINALS: Copper alloy, with Silver or gold plated.
Applications
Telecommunications, Instrumentation, Networking and Medical equipment.
HARDWARE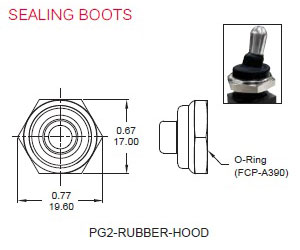 Safety / Quality Approvals

Related Products

Switch RUBBER-HOOD

---

Dailywell rubber-Hood prevent dust, sand and water from getting into switches. On toggle versions, they also prevent ice from blocking lever action.Dailywell switch rubber-hoods are available in a wide range of shapes.Order Terms 1. Your inquiry will be answered within 24 hours. 2. Payment term: T/T in advance (first transaction) 3. Term of trade: FOB HK/TW 4. Mini Order Quantity: 100 PCS per item. 5. Mini Order Amount Per Shipment: USD$50 6. Lead time: 3-4 weeks.

---

1F Series

---

Dailywell 1F series toggle switches offer in SPDT, DPDT and other specifications, the contact rating up to 6A/125VAC; 3A/250VAC; 3A/30VDC, and comply with IP67 standard and machinacal durability up to 100,000 times. Dailywell 1F series toggle switches are available in heavy industrial remote control and shipbuilding equipment.Order Terms 1. Your inquiry will be answered within 24 hours. 2. Payment term: T/T in advance (first transaction) 3. Term of trade: FOB HK/TW 4. Mini Order Quantity: 100 PCS per item. 5. Mini Order Amount Per Shipment: USD$50 6. Lead time: 3-4 weeks.

---

1A Series

---

Dailywell 1A series toggle switches comply with IP67 standards, and contact rating up to 5A. We offer a variety of switching functions, SPDT, DPDT, 3PDT and more.We use water-proof sealing design to prevent dust from getting inside during soldering. The operating temperature range between -40℃ and 85℃. Both bushing and insulator are complied with nylon UL94V-0 standard.Order Terms 1. Your inquiry will be answered within 24 hours. 2. Payment term: T/T in advance (first transaction) 3. Term of trade: FOB HK/TW 4. Mini Order Quantity: 100 PCS per item. 5. Mini Order Amount Per Shipment: USD$50 6. Lead time: 3-4 weeks.

---

---

Files Download

---
Press Release
Information COVID-19

"Dailywell focus on every medical switching requirement, and we fully support the medical related application to reduce COVID-19 crisis."

Read More

Dailywell Announce of A NEW Taiwan Plant Be Built to Enhance Production Capacity

Due to increase ordering requirements, Dailywell have built 3rd plant in Zhonghe, New Taipei City, which increasing our current production rate more, benefit our new products'production...

Read More

This is HOT news for our KPB22 series switches, which is complete approved by TUV & ENEC certification

The distinctive of KPB22 series, which specs on illuminated switches are lightweight-plastic material,
meets IP65 approval, different carved pattern customized, and with TUV & ENEC 61058-1...

Read More